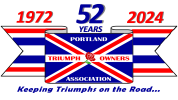 In alphabetical order
Advertisement on the web site is not an endorsement by PTOA for the quality of their services or products. Users are responsible for researching the advertisers services and products prior to using them.

Brian's British Etc. LLC

40 Years experience in Triumph & MG
Repair and Restoration
ASE certified, Moss Motrors Dealer
1045 Industrial Pkwy, Newberg, OR
www.briansbritish.com
PHONE: (503) 805-1340
EMAIL: brian@briansbritish.com
HOURS: 9-5 MON - FRI
Finishline Coatings, Inc

http://www.finishlinecoatings.com/
Finishline is the leader in Custom Ceramic Thermal Barrier finishes for automotive and industrial purposes.
Whether it be exhausts, turbos, brakes, chassis or engine parts, Finishline delivers the best coatings -- guaranteed.
2889 SE Silversprings Road
Milwuakie, OR 97222
503-659-4278
PMX Alternators & Starters

Alternators: Chrome, One Wire, 6-Volt, Positive Ground, Custom High Amp, Marine, Generator to Alternator Conversion Kits for Most Systems including Lucas, Flathead V-8 and Model A.
Starters: Chrome, Hi-Torque, Convert 6 to 12 Volt, Gear Reduction Starters for Big Block Fords and Chevys.
PMX, Inc., 8420 SE Hinckley, Happy Valley, OR
Bill Jungck 503.777.7172, FAX 503.777.7156
Website: http://pmxalternators.com/
British Auto Works
"The Area's Largest Complete British Car Repair, Parts and Restoration Shop"
10580 NW 289th Pl., North Plains,OR
www.britishautoworks.com
Facebook
PHONE: (503) 647-0435
EMAIL: email@britishautoworks.com
FREEMAN MOTOR CO
"Freeman Motor Company has a drive to exceed expectations with world class service, a top ranked sales team, and impeccable car selection."
Website
Sales - 7524 SW Macadam, Ptld
503.310.5555
Service - 4841 SW Macadam, Ptld
503.595.5353
Foreign Parts Positively
Lots of new and used British parts. Expert maintenance, repair, and restoration.
9900 NE 189th Street, Brush Prairie, Washington 98606
Phone: 360-882-3596
Website: http://www.foreignpartspositively.com/
Rimmer Bros.
A British company supporting British cars. Triumph parts & accessories for Triumph models from 1953 onwards. Trust us to deliver...Worldwide. Millions of parts in stock.
Website: http://www.rimmerbros.com/
Click For More Information
2024 ATDI
July 26-28 2024
Hosted by BCTR
Vernon, BC