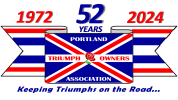 Portland Triumph Owners Association Upcoming Events

Event Hosts!

Please print Event Registration Form
.
Have your guests sign the form and then give the form to the Membership Chair to record member's participation.

The Monthly General Meetings are in-person at Stark St. Pizza!

Want to Lead a Tour?

Click HERE for a handy guideline for planning and leading a tour.
Sep 2023

Day

•

PTOA
Sponsored

Event

Time

7




•

Board Meeting Zoom meeting

7:00 pm

8-10




•

Portland ABFM 2023 Celebrating Land Rover at Portland International Raceway. The All British Field Meet at Portland International Raceway is the longest-running and largest three-day, all-British car event in the Americas. Click HERE for more information.

7-10

Triumphest 2023 San Rafael, CA. For more information, click HERE.

11


•
General Meeting
Stark Street Pizza 9234 SE Stark St., Portland


7:00 pm

21

•

Members Night Out Hosts: Bruce and Kerri Harding. The 'End of Summer' Members Night Out in Canby at the Backstop Bar and Grill (www.backstopbarandgrill.com) located at 211 N. Grant St, Canby OR 97013. The area we have reserved is around the welcome table on the right. We'll have the area starting at 6:30pm. They have a wide selection of brews and food. We hope to see you there. If you have any questions contact Bruce or Kerri.


6:30 pm

17

SW Idaho All British Field Meet 2023 Meridian, ID. Click HERE for the SWIABFM website.

28

•

Ladies TR Luncheon Hostesses: Bev Jones and Sharon Richardson. The New Sweet Peas Tea Room, 1207 SE Rasmussen Blvd (in Battle Ground Village). Additional bonus-Shopping begins at 1000 (home décor, vintage shops). RSVP to Bev Jones 360 798 9764 bevjones115@hotmail.com.
Note-This is not the "usual" day for the lunch!

11:30 am

28

•

Board Meeting Zoom meeting

7:00 pm

30

Keith Ansell's Tech Session. 19900 NE 189th St. Brush Prairie, WA.


1:00 pm
Oct 2023

Day

•

PTOA
Sponsored

Event

Time

2


•
General Meeting
Stark Street Pizza 9234 SE Stark St., Portland


7:00 pm

8



•
Camp 18 Tour/Brunch Join us Sunday October 8 for the 29th annual Camp 18 Tour. (A return to the usual tour held every year other than 2020 and 2021 due to Covid, and the PTOA Fiftieth Anniversary in 2022.) Meet between 8:30 and 9 AM October 8 at Exit 57 (North Plains Exit) off HWY 26, in the parking lot of the Sunshine Market and 76 Station on the NE side of the exit. We will depart for Camp 18 at 9:30 for a great little drive, great food and good company at the historic Camp 18 Restaurant and Logging Museum. See you there, Matt & Lisa Hennig.

8:30 am

11

•

Ladies TR Luncheon Hostess: Susan Rego. Details when available.


11:30 am

19

•

Members Night Out Host needed. Details when available.


7:00 pm

28

Keith Ansell's Tech Session. 19900 NE 189th St. Brush Prairie, WA.


1:00 pm
Nov 2023

Day

•

PTOA
Sponsored

Event

Time

2




•

Board Meeting Zoom meeting

7:00 pm

6


•
General Meeting
Stark Street Pizza 9234 SE Stark St., Portland


7:00 pm

8

•

Ladies TR Luncheon Hostess: Taunya McKee. Details when available.


11:30 am

16

•

Members Night Out Host needed. Details when available.


7:00 pm

25

Keith Ansell's Tech Session. 19900 NE 189th St. Brush Prairie, WA.


1:00 pm

30

•

Board Meeting Zoom meeting

7:00 pm
Dec 2023

Day

•

PTOA
Sponsored

Event

Time

4


•
General Meeting
Stark Street Pizza 9234 SE Stark St., Portland


7:00 pm

9

•

PTOA Christmas Party Al Kader Shrine Center, 25100 SW Parkway Ave., Wilsonville. More details when available.


13

•

Ladies TR Luncheon Hostesses: Donna Moore and Nancy Kurtz. Details when available.


11:30 am

21

•

Members Night Out Host needed. Details when available.


7:00 pm

30

Keith Ansell's Tech Session. 19900 NE 189th St. Brush Prairie, WA.


1:00 pm
Click For More Information
2024 ATDI
July 26-28 2024
Hosted by BCTR
Vernon, BC