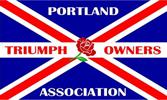 Portland Triumph Owners Association Upcoming Events

Event Hosts!

Please print Event Registration Form
.
Have your guests sign the form and then give the form to the Membership Chair to record member's participation.

July 2019

Day

•

PTOA
Sponsored

Event

Time

1

•

General Meeting
Stark Street Pizza, 92nd & S.E. Stark St. Click HERE for information and map

7:00 pm

1

•

Board Meeting (following general meeting)

8:15 pm

10

Ladies TR Luncheon Hostess: Bonne Baxter. At her residence More details when available.

11:30 am

13

•

The Fish, Lake, Waterfall and River Tour. Host: David Duthie. Details HERE

13

Classics & Coffee Commonwealth Classics Ltd., 1613 East 4th Street, Vancouver,WA

18

•

Members Night Out FIKA Cafe 4120 N Williams Ave, Portland, OR 97217, Hosts: Keith and Ursula Ansell. Portland. HERE is a map.

7:00 pm

20

Mystery Tour Hosted by the ken and Theresa Floyd. Tour Information HERE. Limited spaces.

20

All British Field Meet. Kenmore, WA HERE are the details and registration.

21

Forest Grove Concours D' Elegance. HERE is the information.
Aug 2019

Day

•

PTOA
Sponsored

Event

Time

5

•

General Meeting
Stark Street Pizza, 92nd & S.E. Stark St. Click HERE for information and map

7:00 pm

5

•

Board Meeting (following general meeting)

8:15 pm

10

Classics & Coffee Commonwealth Classics Ltd., 1613 East 4th Street, Vancouver, WA

14

Ladies TR Luncheon Hostess: Kathie Foster. Details when available.

11:30 am

15

•

Members Night Out Host needed. Details when available

7:00 pm

17

"Triumph Italias at Concorso Italiano" Concorso Italiano 2019 (https://concorso.com/) More information HERE.

24

•

Cutsforth's Car Show. Canby, OR. HERE is the car show website. Register on-line or at the event. More PTOA details coming soon.

24

Picnic with TYEE Triumph Owners Club. Initial details and RSVP HERE.

31

Keith Ansell's Tech Session. 19900NE 189th St. Brush Prairie, WA

1:00 pm
Sep 2019

Day

•

PTOA
Sponsored

Event

Time

7 - 8

All British Field Meet. Portland, Or. HERE is all the information and Registration.

9

•

General Meeting
Stark Street Pizza, 92nd & S.E. Stark St. Click HERE for information and map

9

•

Board Meeting (following general meeting)

11

Ladies TR Luncheon Hostess: Ann Bell. Grant House, Officer's Row, Vancouver, WA. HERE is their information and HERE is a map.

11:30 am

14,15

Southwwest Idaho All British Field Meet. HERE is all the information:

14

Classics & Coffee Commonwealth Classics Ltd., 1613 East 4th Street, Vancouver, WA

19

•

Members Night Out Host needed. Details when available

7:00 pm

20-22

All Triumph Drive In. Penticton, BC. HERE is all the information.

28

Keith Ansell's Tech Session. 19900NE 189th St. Brush Prairie, WA

1:00 pm
Oct 2019

Day

•

PTOA
Sponsored

Event

Time

7

•

General Meeting
Stark Street Pizza, 92nd & S.E. Stark St. Click HERE for information and map

7:00 pm

7

•

Board Meeting (following general meeting)

8:15 pm

9

Ladies TR Luncheon Hostess: Susan Rego. Details when available.

11:30 am

12

Classics & Coffee Commonwealth Classics Ltd., 1613 East 4th Street, Vancouver, WA

17

•

Members Night Out Host needed. Details when available

7:00 pm

26

Keith Ansell's Tech Session. 19900NE 189th St. Brush Prairie, WA

1:00 pm
Nov 2019

Day

•

PTOA
Sponsored

Event

Time

4

•

General Meeting
Stark Street Pizza, 92nd & S.E. Stark St. Click HERE for information and map

7:00 pm

4

•

Board Meeting (following general meeting)

8:15 pm

13

Ladies TR Luncheon Hostess: Donna Moore

11:30 am

9

Classics & Coffee Commonwealth Classics Ltd., 1613 East 4th Street, Vancouver, WA

21

•

Members Night Out Host needed. Details when available

7:00 pm

30

Keith Ansell's Tech Session. 19900NE 189th St. Brush Prairie, WA

1:00 pm
Dec 2019

Day

•

PTOA
Sponsored

Event

Time

2

•

General Meeting
Stark Street Pizza, 92nd & S.E. Stark St. Click HERE for information and map

7:00 pm

2

•

Board Meeting (following general meeting)

8:15 pm

11

Ladies TR Luncheon Hostess: Sharon Richardson at her residence. More details when available.

11:30 am

14

Classics & Coffee Commonwealth Classics Ltd., 1613 East 4th Street, Vancouver, WA

19

•

Members Night Out Host needed. Details when available

7:00 pm

28

Keith Ansell's Tech Session. 19900NE 189th St. Brush Prairie, WA

1:00 pm