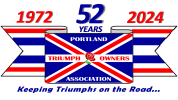 Portland Triumph Owners Association Upcoming Events

Event Hosts!

Please print Event Registration Form
.
Have your guests sign the form and then give the form to the Membership Chair to record member's participation.

May 2022

Day

•

PTOA
Sponsored

Event

Time

2


•
General Meeting
Stark Street Pizza 9234 SE Stark St., Portland



7:00 pm

11

Ladies TR Luncheon Hostess: Irene Silver and Bev Jones. Vagabundos Cosina Mexican, 10505 SW Beaverton Hillsdale Hwy, Beaverton. This is just east of Hwy 217.
The restaurant we had chosen closed this week! New place: Taste of Sichuan,16261 NW Cornell Road Beaverton 97006. Very easy to get to just off Hwy 26.


11:30 am

14

Classics & Coffee Commonwealth Classics Ltd., 1613 East 4th Street, Vancouver, WA

9-11 am

19

•

Members Night Out Host needed. Details when available.


7:00 pm

21

Vancouver ABFM 2022 VanDusen Botanical Garden, Vancouver BC. More details are HERE.

28

Keith Ansell's Tech Session. 19900 NE 189th St. Brush Prairie, WA


1:00 pm
The Monthly General Meetings are in-person at Stark St. Pizza!

June 2022

Day

•

PTOA
Sponsored

Event

Time

2




•

Board Meeting Zoom meeting

7:00 pm

6


•
General Meeting
Stark Street Pizza 9234 SE Stark St., Portland



7:00 pm

8

Ladies TR Luncheon Hostess needed. More details when available.


11:30 am

11

Classics & Coffee Commonwealth Classics Ltd., 1613 East 4th Street, Vancouver, WA

9-11 am

11

•

Members Day Out Venture south across the 45th parallel to the Sliger's estate at 3779 Winding Creek Ln SE in Turner. Come at 11 AM and lunch will begin at noon. The Sligers will provide hamburgers. Please bring a side or dessert.and lawn chairs. Let's hope for good weather!!


11:00 am

18

•

Da Curvy Road Tour Bob and Elsa Sinclair lead the annual Curvy Road Tour, rolling from the Oregon City Home Depot parking lot at 10 a.m., and ending in Sandy for a picnic. More details HERE.

10:00 am

23-25

IBCC Summer Tour 2022 Twin Falls, ID More details HERE

25

Salute to Veterans Car & Motorcycle Show Wa. Co. Fair Complex, Hillsboro.
Click HERE for more information and registration.

9:30 am

25

Keith Ansell's Tech Session. 19900 NE 189th St. Brush Prairie, WA


1:00 pm
Aug 2022

Day

•

PTOA
Sponsored

Event

Time

1


•
General Meeting
Stark Street Pizza 9234 SE Stark St., Portland



7:00 pm

4-7

33rd Annual Northwest Classic Rally "Still Classic After All These Years" The Alfa Romeo Club of Oregon invites you to the 2022 Northwest Classic Rally. Click HERE for more information.


10

Ladies TR Luncheon Hostess needed. More details when available.


11:30 am

13

Classics & Coffee Commonwealth Classics Ltd., 1613 East 4th Street, Vancouver, WA

9-11 am

14

•

PTOA 50th Anniversary Silver Falls Tour and Picnic Tom and Brenda Mills host this event in the valley. Meet at 9:00 AM at the Mills home in Silverton for coffee and donuts More details when available.

9:00 am

18

•

Members Night Out Host needed. Details when available.


7:00 pm

18-21

TYEE Triumph Club 2022 ATDI Olympia, WA More details HERE

27

Keith Ansell's Tech Session. 19900 NE 189th St. Brush Prairie, WA


1:00 pm
July 2022

Day

•

PTOA
Sponsored

Event

Time

7




•

Board Meeting Zoom meeting

7:00 pm

11


•
General Meeting
Stark Street Pizza 9234 SE Stark St., Portland



7:00 pm

13

Ladies TR Luncheon Hostess needed. More details when available.


11:30 am

9

Classics & Coffee Commonwealth Classics Ltd., 1613 East 4th Street, Vancouver, WA

9-11 am

16

•

Mystery Tour More details when available.

17

Forest Grove Concours d'Elegance Attend the longest-running Concours d'Elegance in the Pacific Northwest and enjoy more than 300 classic and modified cars on the tree-shaded campus of Pacific University. More details HERE.


16-22

Hagerty Car Corral at PIR Part of the SpeedTour Portland Vintage Racing Festival. More details HERE.

23

Western Washington ABFM 2022 Kenmore, WA. More details HERE.

28

•

PTOA 50th Anniversary Members Night Out Avidity Wines, 33174 NE Haugen Rd, Newberg. Please note the change in venue. RSVP to secretary@portlandtriumph.org ASAP. Click HERE for more details.


6-9 pm

27

•

Board Meeting Zoom meeting. Note: This is on a Wednesday.

7:00 pm

30

Keith Ansell's Tech Session. 19900 NE 189th St. Brush Prairie, WA


1:00 pm
Oct 2022

Day

•

PTOA
Sponsored

Event

Time

3


•
General Meeting
Stark Street Pizza 9234 SE Stark St., Portland



7:00 pm

12

Ladies TR Luncheon Hostess needed. More details when available.


11:30 am

8

Classics & Coffee Commonwealth Classics Ltd., 1613 East 4th Street, Vancouver, WA

9-11 am

20

•

Members Night Out Host needed. Details when available.


7:00 pm

29

Keith Ansell's Tech Session. 19900 NE 189th St. Brush Prairie, WA


1:00 pm
Sep 2022

Day

•

PTOA
Sponsored

Event

Time

8




•

Board Meeting Zoom meeting

7:00 pm

9-11

Portland ABFM 2022 45th anniversary, celebrating Triumph. Volunteers needed. More details HERE.

12


•
General Meeting
Stark Street Pizza 9234 SE Stark St., Portland



7:00 pm

14

Ladies TR Luncheon Hostess needed. More details when available.


11:30 am

10

Classics & Coffee Commonwealth Classics Ltd., 1613 East 4th Street, Vancouver, WA

9-11 am

15

•

Members Night Out Host needed. Details when available.


7:00 pm

17-18

IBCC SW Idaho ABFM 2022 Meridian, ID. More details HERE

24

Keith Ansell's Tech Session. 19900 NE 189th St. Brush Prairie, WA


1:00 pm

29

•

Board Meeting Zoom meeting

7:00 pm
Dec 2022

Day

•

PTOA
Sponsored

Event

Time

1




•

Board Meeting Zoom meeting

7:00 pm

5


•
General Meeting
Stark Street Pizza 9234 SE Stark St., Portland



7:00 pm

14

Ladies TR Luncheon Hostess needed. More details when available.


11:30 am

10

Classics & Coffee Commonwealth Classics Ltd., 1613 East 4th Street, Vancouver, WA

9-11 am

15

•

Members Night Out Host needed. Details when available.


7:00 pm

31

Keith Ansell's Tech Session. 19900 NE 189th St. Brush Prairie, WA


1:00 pm
Nov 2022

Day

•

PTOA
Sponsored

Event

Time

3




•

Board Meeting Zoom meeting

7:00 pm

7


•
General Meeting
Stark Street Pizza 9234 SE Stark St., Portland



7:00 pm

9

Ladies TR Luncheon Hostess needed. More details when available.


11:30 am

12

Classics & Coffee Commonwealth Classics Ltd., 1613 East 4th Street, Vancouver, WA

9-11 am

17

•

Members Night Out Host needed. Details when available.


7:00 pm

26

Keith Ansell's Tech Session. 19900 NE 189th St. Brush Prairie, WA


1:00 pm