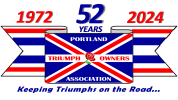 Portland Triumph Owners Association Upcoming Events

Event Hosts!

Please print Event Registration Form
.
Have your guests sign the form and then give the form to the Membership Chair to record member's participation.

The Monthly General Meetings are in-person at Stark St. Pizza!

Save the Dates:
2023 All Triumph Drive-In
Eagle Crest Resort, Redmond Oregon
July 27 through July 30, 2023
Click Here for more information!

Want to Lead a Tour?

Click HERE for a handy guideline for planning and leading a tour.
Jun 2023

Day

•

PTOA
Sponsored

Event

Time

1




•

Board Meeting Zoom meeting

7:00 pm

5


•
General Meeting
Stark Street Pizza 9234 SE Stark St., Portland


7:00 pm

11

Twenty-fifth AutoJumble All British Swap Meet and Car Display


After several years hiatus due to the pandemic, the AutoJumble is back! This meet is scheduled for Sunday, June 11th at the parking garage by the old Sears store at Clackamas Town Center. Click HERE for more information and a registration form (if you would like to have a space to sell your British car paraphernalia).


14

•

Ladies TR Luncheon Hostess: Brenda Mills. The Noble Fox Restaurant, Silverton, OR. Shopping and Lunch in downtown Silverton! Please RSVP to Brenda by Friday, June 9. Click HERE for a flyer with more information.


10:00 am

15

•

Members Night Out Hosts: Brian and Donna Moore. Old Market Pub & Brewery, 6959 SW Multnomah Blvd, Portland. Click HERE for more information.


6:30 pm

17

British Invasion Alderbrook Park, 24414 NE Westerholm Rd., Brush Prairie, WA. Click HERE for a flyer with more information. Ken Steinke and Bev Jones plan to collect PTOA members at their home prior to the event to travel together to the park. Click HERE for more information on the pre-event gathering.


7:30 am

22-24

IBCC Summer Tour '23 Pendleton, OR. Click HERE for a flyer with hotel reservation and tour information. Click HERE for the IBCC website. Registration for this event is now open! Click HERE to register.


24

•

Da Curvy Road Tour Bob and Elsa Sinclair will lead a tour through winding back roads of Clackamas county. Click HERE for more details.

10:00 am

24

Keith Ansell's Tech Session. 19900 NE 189th St. Brush Prairie, WA.


1:00 pm
Jul 2023

Day

•

PTOA
Sponsored

Event

Time

6




•

Board Meeting Zoom meeting

7:00 pm

10


•
General Meeting
Stark Street Pizza 9234 SE Stark St., Portland


7:00 pm

12

•

Ladies TR Luncheon Hostess: Linda Ernst. Details when available.


11:30 am

14-15

Western Washington All British Field Meet Kenmore, WA. Click HERE for more information.

14-16

Lewis and Clark Classic Rally Lebanon, OR. Click HERE for more information.


16

2023 Forest Grove Concours D'Elegance The longest-running Concours d'Elegance in the Pacific Northwest with more than 300 classic and modified cars on the tree-shaded campus of Pacific University. Enjoy live music, food, a beer garden, and a wine pavilion at this historic Greater Portland Event. All proceeds benefit Rotary Club Foundation Scholarships and Community Service projects. Click HERE for more information.


8:30 am

20

•

Members Night Out Hosts: Tom and Heather Woods. Details when available.


7:00 pm

27-30

All Triumph Drive In 2023 PTOA hosts the ATDI this year at Eagle Crest Resort just outside the city of Redmond, Oregon. Eagle Crest boasts over 300 days of sunshine each year with less than nine inches of annual rainfall. Click HERE for more information. Online event registration is now available!

29

Keith Ansell's Tech Session. 19900 NE 189th St. Brush Prairie, WA.


1:00 pm
Aug 2023

Day

•

PTOA
Sponsored

Event

Time

3




•

Board Meeting Zoom meeting

7:00 pm

7


•
General Meeting
Stark Street Pizza 9234 SE Stark St., Portland


7:00 pm

9

•

Ladies TR Luncheon Hostess: Theresa Floyd. Details when available.


11:30 am

12

Portland Cars & Coffee Sherwood, OR. Meets almost every Saturday morning with a different featured vehicle type each week. This week is British Day. Click HERE for more information.


8:00 am

17

•

Members Night Out Host: Kingsley Meldrum. Details when available.


7:00 pm

26

Cutsforth's Cruise In Wait Park, Canby OR. Gates open for participants at 6:30 am. The show runs from 9 am to 2 pm. Click HERE for more information.

6:30 am

26

Oregon State Penitentiary 43rd Annual Car & Bike Show Unusual classic and custom vehicle show on the grounds of the OSP in Salem. Click HERE for more information and an application.


6:00 am

26

Keith Ansell's Tech Session. 19900 NE 189th St. Brush Prairie, WA.


1:00 pm
Sep 2023

Day

•

PTOA
Sponsored

Event

Time

7




•

Board Meeting Zoom meeting

7:00 pm

8-10




•

Portland ABFM 2023 Celebrating Land Rover at Portland International Raceway. The All British Field Meet at Portland International Raceway is the longest-running and largest three-day, all-British car event in the Americas. Click HERE for more information.

7-10

Triumphest 2023 San Rafael, CA. For more information, click HERE.

11


•
General Meeting
Stark Street Pizza 9234 SE Stark St., Portland


7:00 pm

13

•

Ladies TR Luncheon Hostesses: Bev Jones and Sharon Richardson. Details when available.


11:30 am

21

•

Members Night Out Hosts: Bruce and Kerri Harding. Details when available.


7:00 pm

17

SW Idaho All British Field Meet 2023 Meridian, ID. Click HERE for the SWIABFM website.

28

•

Board Meeting Zoom meeting

7:00 pm

30

Keith Ansell's Tech Session. 19900 NE 189th St. Brush Prairie, WA.


1:00 pm
Oct 2023

Day

•

PTOA
Sponsored

Event

Time

2


•
General Meeting
Stark Street Pizza 9234 SE Stark St., Portland


7:00 pm

11

•

Ladies TR Luncheon Hostess: Susan Rego. Details when available.


11:30 am

19

•

Members Night Out Host needed. Details when available.


7:00 pm

28

Keith Ansell's Tech Session. 19900 NE 189th St. Brush Prairie, WA.


1:00 pm
Nov 2023

Day

•

PTOA
Sponsored

Event

Time

2




•

Board Meeting Zoom meeting

7:00 pm

6


•
General Meeting
Stark Street Pizza 9234 SE Stark St., Portland


7:00 pm

8

•

Ladies TR Luncheon Hostess: Taunya McKee. Details when available.


11:30 am

16

•

Members Night Out Host needed. Details when available.


7:00 pm

25

Keith Ansell's Tech Session. 19900 NE 189th St. Brush Prairie, WA.


1:00 pm

30

•

Board Meeting Zoom meeting

7:00 pm
Dec 2023

Day

•

PTOA
Sponsored

Event

Time

4


•
General Meeting
Stark Street Pizza 9234 SE Stark St., Portland


7:00 pm

9

•

PTOA Christmas Party Al Kader Shrine Center, 25100 SW Parkway Ave., Wilsonville. More details when available.


13

•

Ladies TR Luncheon Hostesses: Donna Moore and Nancy Kurtz. Details when available.


11:30 am

21

•

Members Night Out Host needed. Details when available.


7:00 pm

30

Keith Ansell's Tech Session. 19900 NE 189th St. Brush Prairie, WA.


1:00 pm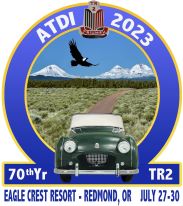 Click For More Information