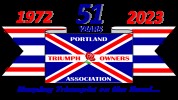 Portland Triumph Owners Association
Officers and Volunteers
P
ortland Triumph Owners Association board members are responsible for the club's day-to-day operations as well long term planning, finances, trips, events and regalia.
For more information about our monthly board meetings, visit our Activities Calendar.
Left to Right: Webmaster / Advertising Coordinator, Bob Hauge, Secretary, Claire Hauge, Vice President, Tom Masson, Membership, Susan Rego, President, Mike Crane, Events Coordinator, Rainie Berry, Treasurer, Dennis Baxter, TRAX Editor, Patrick Berry.
---