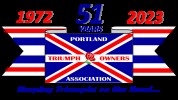 Drive Your Triumph Day is next weekend, Sunday, February 10th.

From the desk of Rye Livingston, Activities Chairman, Triumph Travelers Sports Car Club

The concept is straightforward. On February 10th, go for a drive in your Triumph or Standard. Take a scenic drive on a country road or out to lunch, to the market, to work, where ever. Go for a drive alone or in a big group from your local Triumph or Standard car club. Take your spouse, buddy, child, grandchild or your dog; then take a photo. The photo is mainly of the car, and the owner if possible, ideally in front a cool spot, landmark, scenic view, in your driveway or in your garage. If itís the middle of the winter where you live and your car is in hibernation, or in the middle of a restoration, take a photo of it anyway. Send a hi-res photo to driveyourtriumphday@gmail.com, along with some basic information: ownerís name, year and model of car, and place photo was taken (city, state, country).
Now the bonus, which Iím very excited to share. In early January I was able to get in touch with Nick Black, Sir John Blackís son. Weíve exchanged over 20 emails covering several topics, of course including Drive Your Triumph Day. Heís very pleased about the event, and had read about it in the Standard Car Review. He shipped me a DVD with some home videos, and most importantly, he sent me a PDF of his book, Triumph & Tragedy, instructing me that itís OK to post on our website and distribute freely. Iíve loaded it on my Kindle, which works but the text is kind of small. Iíve also loaded it on my iPad, which is better, and of course very easy to read on my computer.
HERE is a link to the pdf of "Triumph and Tragedy"