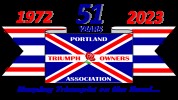 The August Ladies TR Luncheon will be held at the home of Bev Jones at 11:30 on Wednesday August 16th.

Her address is 221 SE Eaton Blvd., Battle Ground, WA.

If you wish, you may bring a summer salad or dessert, but it is not required. Drinks will be provided.

Battle Ground has many vintage and antique shops in case you want to do a little shopping while "up north" for the day!

Please RSVP by August 14th. Call: 360-seven nine eight-9764 or
360-six eight seven-7026 or email HERE.